Covid-19 Vaccine
By: Chloe Pryor (12), December 17, 2020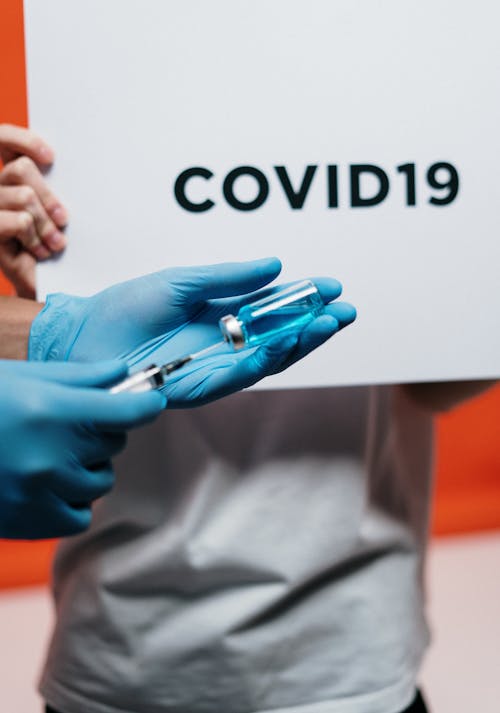 Covid-19 has been a horrible sickness that has put all of our lives on pause. The one thing that would allow us to press play again would be a vaccine. Let's take a look at some of the facts about the Covid-19 vaccine.
On December 11, 2020, the first Covid vaccines were released to the United States. As some people are scared to get their vaccines, others are ready to return back to "normal" life. Research shows that this vaccine will not infect our bodies with Covid-19, but instead it will train our immune systems to find the virus and fight it off in a healthy way. This vaccine is likely to give the participant a fever, but that is, in fact, a sign that the vaccine is working.
The Covid-19 vaccine is not released to everyone quite yet. Because this vaccine is so new, there is a limited supply. Currently, healthcare workers are first in line to get this vaccine because they are essential workers. As for the public, the vaccine will be released sometime next year.
With any new vaccine, it can always be hard to trust what is being put into your body. This one in particular is given in two separate doses. Some common side effects that have been observed are fever, fatigue, chills, muscle pain, and joint pain. Though this might sound frightening, these are pretty common side effects when it comes to any vaccine.
As this year comes to an end and a new year begins, we hope to see improvement, and maybe this vaccine is a step in the right direction.
---
iPhone 12, or 12 Pro
By: TJ Hawthorn, November 19, 2020
Here I will be giving you a review on the iPhone 12 and the iPhone 12 Pro.
Color Variety: With the iPhone 12 you have more of a color variety. The iPhone 12 comes in Blue, Green, Product Red, White, and Black. With the iPhone 12 Pro you have the 4 options, Pacif15ic Blue, Gold, Gray, and Graphite.
Price Difference: The iPhone 12 starts at $799 for 64 GB of storage. It can also go all the way up to $949 for 256 GB of storage. If you want to buy it unlocked you must pay an additional $30. The iPhone 12 Pro prices start at $999 with 128 GB of storage to start, and goes up to $1299 for 512 GB of storage. With unlocked variants, the prices aren't different from the iPhone 12.
Size: Well with the size, they are absolutely identical. In fact, the same case works for both. There are many cases you can get from Apple or from different sellers. The iPhone 12 is a bit lighter because it is made of aluminum. The backside of the phone is glass, and the camera area is a matte type of finish. The iPhone 12 weighs 5.78 oz. (164 grams). Whilst, the iPhone 12 Pro weighs 6.66 oz. (189 grams). Other than the weight differences they are completely identical.
5G: They both operate on the same 5G network. Everything's the same as far as that. The speakers are the same, and the microphone is the same. 5G is something new for Apple.
Displays: The displays are the same also. They both use gorilla glass with ceramic shields, so they should be equally durable. Apple says they are 4 times more durable than last year's iPhone. Like I said, the displays are the same. They are the same in every dimension. They are using a 6.1 inch Super Retina XDR. The refresh rate is 60 HZ, which is slower than last year. They support HDR and True Tone. As far as the brightness, that's where the difference is. With the iPhone 12 the brightness goes up to 625 nits of brightness, while the iPhone 12 Pro goes up to 800 nits of brightness.
CPU: There's another difference when it comes to the processor. Now, they have the same Bionic A14 Processor which is very fast. The iPhone 12 only has 4 GB of RAM, while the iPhone 12 Pro has 6 GB of RAM. This may make a difference when editing video.
Cameras: Now, on the back there are obvious differences with the cameras. The iPhone 12 does not have three lenses like the iPhone 12 Pro. The iPhone 12 also lacks the new LiDAR sensor like the iPhone 12 Pro has. But the cameras that are already there are identical between the two. For example, they both have the exact same 12 MP Ultrawide Camera with a F/2.4 4K60. We also have a wide 12MP Wide F/1.6 4K60 lens that lets in a lot of light. The iPhone 12 Pro has a 12MP Telephoto F/2.0 4K60 lens. The LiDAR sensor will help with dark photos. The iPhone 12 Pro can zoom into a 4x optical zoom range while the iPhone 12 can only zoom to 2x. With that being said, the iPhone 12 Pro can zoom much further. Another thing that the iPhone 12 Pro has that the iPhone 12 doesn't is the night portrait. The reasoning for this is because of the LiDAR sensor. The forward facing cameras are identical. Both have the option to film in HDR Dolby Video. With that being said the iPhone 12 Pro has the better camera.
Battery: Being that these are both the same size, they both have the same battery inside. They both have a 2815mAh Battery, so there is zero difference. Expect around 7 hours of battery life if you're a light user. If you're a heavy user, you can expect less.
MagSafe: One thing that's nice is MagSafe. It comes with 15 watt charging. This means charging will be faster, and it is available for both models. Let's not forget the phone does not come with a charging block, so you will have to pick one up at the store. You don't have to get it at the Apple store, there are several other stores that sell electronic products for Apple devices.
IP Rating: There is some great water sealing in both of them. They're water resistant to 6 meters for up to 30 minutes, with an IP68 rating.
Apple is not responsible for water damage to your iPhone.
Which iPhone 12 should you choose?
Now, with the iPhone 12 there are a lot of deals right now to get it inexpensively. But, with the iPhone 12 Pro, it starts with 128 GB of storage by default, so it's a great deal. If you are going to get the iPhone 12 you should just upgrade the storage after you b15uy it. If you are planning on recording on your phone, you should probably get the iPhone 12 Pro. Both are great options, if you want a smaller phone you should get the iPhone 12 Mini. There is also the iPhone 12 Pro MAX which is larger. The iPhone 12 Pro MAX is not released yet, but if you want to wait for the 12 Pro MAX you can. Both of these are a great phone, and I would recommend both. If these phones are out of your price range. I recommend looking around through the market for used/older iPhones, as they will be cheaper then the newer phones. I personally have the iPhone XR and I would recommend getting it if you cannot afford the newest phones.
---
Presidential Election
By: Wyatt Cooper (10), November 19, 2020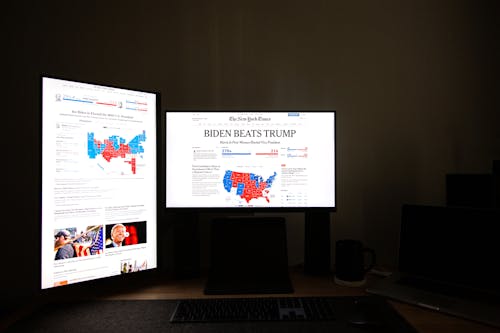 This election has been rough; disagreements and arguments are so easily spurred. As it is known, Donald Trump ran once again for presidency, aiming to win his second term. His main competition was Democrat Joe Biden. This is Joe Biden's third time running for president and his first time winning. He was our former president, Barack Obama's, Vice President. Trump's loss and Biden's win has made many people happy and others sad. Though this is not unlike every presidential election; whoever gets elected every four years causes people to be upset or happy. Some people may not agree, but most respect and are mature about this decision. Others, on the other hand, are very outward and rude about it. For some, it is a difficult thing to talk about because elections have split relationships in both friendships and families. This year, Biden won with 290 electoral votes and Trump finished with 232. The election was brutal, and there continues to be problems to work through, but continue to pray and be assured that this is in God's hands.
---
The Daily Warrior Podcast
By: Chloe Pryor (12), November 9, 2020
Have you heard of the new Rock Academy Podcast team? There are a total of two different podcasts that our Rock Academy students have begun. Conner Akins (12) and Brady Schey (12) are hosting a podcast named "The Senior Sit Down." This podcast consists of topics on sports, school news, school events, world topics, and so much more. The second podcast was started by Gavin Beam (10), who's stage name is "Soundwave" and Kaden Waitley (10), who's stage name is "Static." In this podcast, these hosts will discuss and review movies, games, toys, technology, video games, and different streamers. Both of these podcasts are premiered weekly, so keep your eyes open for these podcasts at thedailywarrior.org.
After interviewing the members of the podcasts, I learned why they started the podcast in the first place. Brady Schey (12) said, "I thought the idea of a podcast would be a great and creative way to get our voices heard in the community. I also thought it would be a fun way to talk about the world around us. Being a viewer of the Joe Rogan podcast, I knew we could try and imitate it. I have always been a fan of podcasts; before this was even an idea, I flung to it and knew I wanted to be a part of it." The hosts of this podcast have been blessed by an anonymous Rock Academy family donor with funds for the equipment needed to begin.
---
Halloween 2020 Edition
By: Wyatt Cooper, October 28, 2020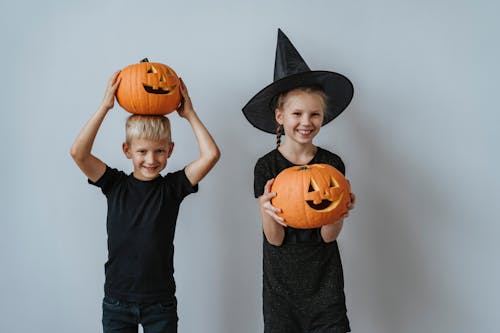 Choosing costumes, decorating pumpkins, and getting special treats brings joy to many children at Halloween. Some Halloween traditions may look different this year to keep everyone safe during the COVID-19 pandemic. However, there are still plenty of ways families can have fun while avoiding the scare of being exposed to or spreading the virus.
Most importantly, keep doing what you have been doing: avoiding large gatherings, keeping a distance of six feet from others, wearing cloth face coverings, and washing hands often. Here are some ideas for ways to keep safety steps in place while celebrating:
Virtual costume parties & parades:
Use video chats for an online party with friends and family and show off costumes and play games. Have fun with it! In cold climates, this may be the first time your child can wear a costume that isn't buried under a parka! Outdoor costume parades are another option, if it is possible for everyone to stay at least 6 feet apart and wear cloth face coverings.
Make trick-or-treating safer:
-Avoid direct contact with trick-or-treaters.
-Give out treats outdoors, if possible.
-Set up a station with individually bagged treats for kids to take.
-Wash hands before handling treats.
-Wear a mask.
Wear a mask
-Make your cloth mask part of your costume.
-A costume mask is not a substitute for a cloth mask.
-Do NOT wear a costume mask over a cloth mask. It can make breathing more difficult.
-Masks should NOT be worn by children under the age of 2 or anyone who has trouble breathing
Stay at least 6 feet away from others who do not live with you
Indoors and outdoors, you are more likely to get or spread COVID-19 when you are in close contact with others for a long time.
Wash your hands
Bring hand sanitizer with you and use it after touching objects or other people.
Use hand sanitizer with at least 60% alcohol.
Parents: supervise young children using hand sanitizer.
Wash hands with soap and water for at least 20 seconds when you get home and before you eat any treats.
Info from https://www.cdc.gov/coronavirus/2019-ncov/daily-life-coping/holidays/halloween.html
---
Camp on Campus
By: Conner Akins, October 26, 2020
Photos by: Clarice Wallace (12)
With the COVID-19 Pandemic going around, we weren't able to go to a stay away camp this year. With the help of the Rock Academy Associated Student Body and the Worship Team, we were able to have "Camp On Campus."
Camp is always a very special time where the student body becomes very united with one another and everyone becomes vulnerable and opens their lives to Christ. "Camp On Campus," led by Mrs. Daldo, recreated the whole camp experience here in Liberty Station, NTC Park. There were games played where each grade level competed against each other and received points toward a Pizza Party. The seniors sat and talked as a panel about their lives and gave guidance to the younger students.
On Friday October 30th, the second "Camp On Campus" day is going to go down. There will be baptisms and testimonies being shared by the senior class. Hopefully in second semester we are able to go out to a stay away camp and get the complete experience again.
---
Meet the New Rock Academy Teachers
Mr. Bud Wenzel
Interviewed by: Andrew Harris, September 22, 2020
1. What three words would best describe you? Sincere, caring, and bald
2. What is your teaching philosophy? My teaching philosophy is based on a love for learning. I believe learners who love to learn make the best disciples who make disciples. Teaching and learning are two sides of the same coin. They are both part of our growth journey. As a teacher, it is my job to actually cause learning to happen…not just present information. I work very hard, but lean into Jesus in my weakness. It is the teacher's responsibility to do absolutely whatever it takes to help the learner actually learn (not just know facts). The learner must also want to learn. Then, the teacher and the learner are on the same journey together where the Lord begins to do things only He can do.
3. How do you feel about teaching at a Christian School? I absolutely love teaching at a Christian School! I find so much life and joy from serving in my giftedness. Teaching at a Christian School gives me the opportunity to serve young people and their families by helping them to understand and apply God's Word.
4. Why did you decide to become a teacher? First and foremost because God called me. Teaching is where my purpose and God's mission intersect. I am never happier in this life than when I am teaching. Also, this world desperately needs some change. I feel passionate about this generation of students being the ones who can make that change as they live out their faith in Jesus. I really believe this! That is why I want to pour into each student in order to prepare, encourage, and equip them to change the world.
Mr. Romeo Horn
Humble. Hard-working. Selfless. These are three words that help describe Rock Academy's new member of the teaching staff. His name is Mr. Horn. He teaches conceptual physics, AP World History, public speaking, and middle and high school PE.
He was born in Canada and moved to Fresno California. He finished his medicine degree at San Diego State, and he plans to continue his education until he no longer can. By chance, he became a substitute teacher and fell in love with it. He loves spreading knowledge and being able to pass on information to other people. His teaching philosophy is "stay ready, then never have to get ready," and a lyric from a rapper Earl Stevens, "a dream without a plan is just a hallucination." He firmly believes that whatever you're doing in life, whatever goal you have set, if you don't have a plan to get that then you might as well see things that require steps to take to get where you want to be.
When asked why he decided to become a teacher at the Rock Academy he answered with, "when I was just being interviewed to work at the Rock the feeling that I got was as if I was coming to work with my family…I felt like it was just a family environment."
The Rock Academy has had very good teachers in the past, we welcome him to our small faith community and anticipate what he can do with our existing programs.